The official YouTube channel of the original web anime project co-produced by Sparkleling and Storytelling MAGIC GIRL WITHOUT TITLE released its 10th episode to announce the release of its smartphone gaming app in 2022.
The project was launched in April 2021 to describe "the struggles of magical new girls who are not bound by the values ​​and common sense created by someone else, but who stand up for themselves and pursue their own ideal images and happiness. ", and released a nine-episode trilogy: "Starry Magical Girl" on the theme of the 80s, "Magical Wing Girl" on the theme of the 90s, and "Flowered magic girl" on the theme of the 2000s.
With the full version of the theme song of the project "MAGIC GIRL WITHOUT TITLE," this latest clip features the magical girls of each generation. The theme song is sung by the voices of the cast members of the three protagonists of each age: Shina shudo like Konomi Minamino, Kaede Yuasa like Hikaru Nishiwaki, and Shu uchida like Yuna Tojo.
Also at the end of the clip, the official title of the project is finally revealed as Junketsu no Mahou Shoujo -MAGIC GIRL WITHOUT TITLE- (Pure Magical Girl – MAGIC GIRL WITHOUT TITLE-).
---
"Starry Magical Girl ACT III" with "Koisuru Mahou Shojo" by Hiroko Kasahara:
"Wing Magical Girl Act III" with "Kibou no Tsubasa" by Masami Okui:
"Flowery Magical Girl Act III" with "FLOWERED MY WAY" by May:
Main staff:
Producer: Yuta Hanazawa (Ranbu Token ex-executive producer)
Original story: Jiro Ishii (Bungo to the alchemist worldview supervisor)
Creative Director: Shuji Sogabe of FIFS (the [email protected] SideM character creator)
Character designer: Kanako Nono of FIFS
Music producer: Yohei Kisara Stray cats (Love Live!)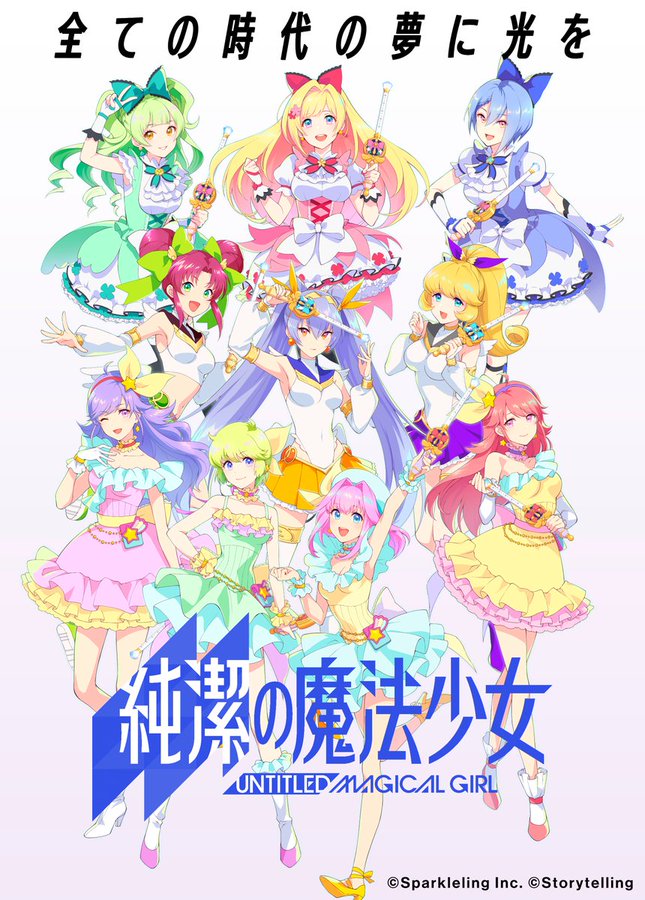 ---
Source: sparkling press release
© Sparkleling Inc. © Contes